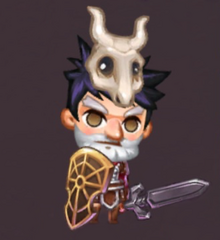 The twelfth Hero is unlocked at level 40.
Introductory Speech
Edit
The last dragon I fought turned to bacon inside of 40 seconds. Just point me to the monsters. Oh, with... one or two caveats.
Recruitment Requirements
Edit
Default Equipment
Edit
Ad blocker interference detected!
Wikia is a free-to-use site that makes money from advertising. We have a modified experience for viewers using ad blockers

Wikia is not accessible if you've made further modifications. Remove the custom ad blocker rule(s) and the page will load as expected.