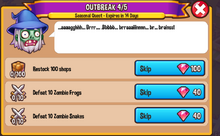 Seasonal Quests are given to you by characters in the game. Each quest begins two weeks before the relevant holiday, with the holiday being the deadline to complete all parts of the quest. The storyline of the adventure is themed to match the holiday. All quests unlock in a linear pattern.
Each active quest will appear as an icon on the left side of your screen with a picture of the character that gave you the quest. As you complete parts of a quest, the progress bar beneath the character's icon will fill in with green color. If the quest is seasonal you will see a countdown timer in red text above the progress bar.
Quest List
Edit
Ad blocker interference detected!
Wikia is a free-to-use site that makes money from advertising. We have a modified experience for viewers using ad blockers

Wikia is not accessible if you've made further modifications. Remove the custom ad blocker rule(s) and the page will load as expected.