This page is a list of all the page templates we use on the wiki. When you create a new page, please copy/paste one of these template layouts onto the page to begin adding content.
How To Create New Pages
Edit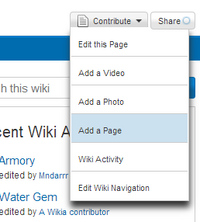 Click on "Contribute" (top right side of every page)
Select "Add a Page"
Name the page - choose the same name the game uses
Select "Blank" page layout
Click "Add a Page" to create the new page!
Once the page is created, you can copy over the page formatting we use from these 'template' pages below. Select the correct page type, then click "edit" on the page and copy the text. Paste it onto your newly created page and fill in the details!
Page Templates List
Edit
Market Item Pages
Hero Equipment Pages
Gameplay Pages
All Other Pages