Bounties are activities to complete like Quests, but instead of being given by game characters they are posted on the Bounty Board. Up to three bounties are posted daily at the same time each day [around 3 am]. Completion of each bounty gives 1-4 Stamps for the Bounty Stamp Card. Each card requires 10 stamps to fill, giving a 5 diamond reward once filled. Extra stamps carry over to the next card.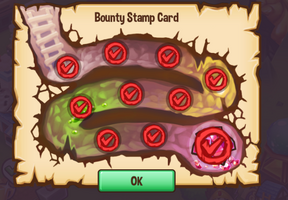 There are three types of bounties, from most common to rarest:
Crafted items have a 24 hour countdown before expiring. Killing monsters expires after three days. Dungeon bounties last seven days.
Crafted - Bounty List Edit
Monsters Bounty List Edit
Killing 20 Monsters for


. Cooling off period is three days. The bounty expires after three days.
Dungeons Bounty List Edit